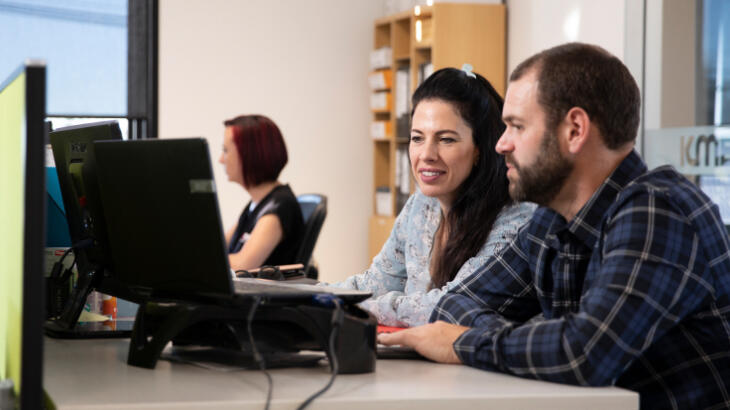 Digitisation, automation, storage and more.
The key to success in our modern business environment lies in using the right technology. See how our solutions benefit your organisations.
Solutions that make sure your documents, whether they're scanned directly, imported electronically, dropped to a folder or sent from an e-mail address, end up where you need them.
Enterprise Content Management
Our solution engineers and valued ECM partners work hard to provide your organisation solutions to reduce costs, improve work efficiently and enhance security.
Intelligent process automation
Taking document storage and collaboration to the next level – these solutions allow you to set policies, build workflows and interact with a document throughout its lifecycle.
A major pain point for business is the repetitive and expensive processes used in by your Accounts Payable team. Through the automation of processes, financial professionals spend less time on tedious administrative tasks such as searching for documentation or inputting data. By minimising manual tasks, companies are able to vastly boost productivity and create greater value for their customers while drastically reducing manual errors. The digitalisation of files, alongside tools which allow for the rapid printing, scanning and sharing of documents provides businesses with a platform to drive productivity.
Are you prepared for the next wave of change?
According to the McKinsey Global Institute, half of today's work activities could be automated by 2055 or it could happen 20 years earlier. Here are a few of the challenges that business automation can help to overcome.
Sales
Teams need an edge in sales pitches, smart ways to reduce the sales cycle, and free up time to get on with selling.
Logistics
Time to break free from stacks of paper, and a reliance on precious information stored in the heads of key workers.
Finance and accounting
Finance professionals spend too long on tedious administrative tasks and not enough on analysing risk.
Procurement
Burdened by paperwork and firefighting with suppliers, procurement teams fail to find time to secure the best deals.
Please feel free to download our guide to Business Automation at the link below.
Talk to us at KMBE and let us help you to streamline your administrative and financial processes, and make enduring cost savings for your business.